Seattle Sounders lost 4-2 to the Rangers when both sides clashed at Shawnee Mission South District Stadium on Saturday. It is a continuance of a perfect record for the Rangers as they hosted their rivals in their homes opener.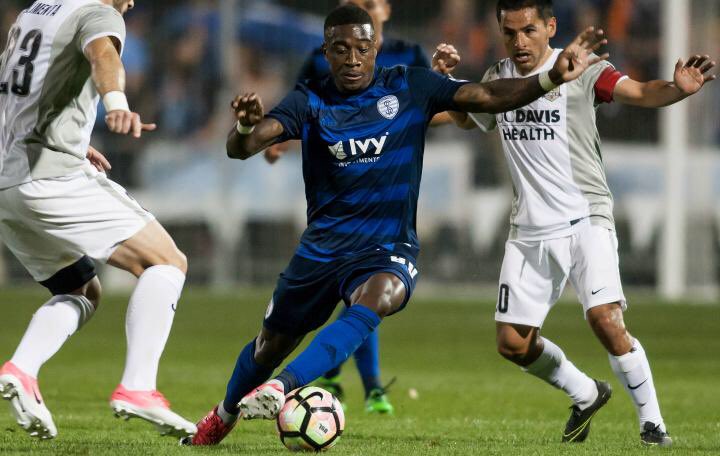 Having performed well in their pre-season friendly against Bayer Leverkusen, who are one of the top teams in German Football, it was a disappointing start to the season for the Sounders.
Kharlton Belmar continued his fine run this season, grabbing his second straight brace in the game against Sounders. He is now the club's all time record goalscorer with 19 goals – though his goals come as no surprise to followers of Dutch football, who will have seen his exploits in the Eredivisie week in-week out two seasons ago when he was on loan at Heerenveen.
The guests netted first through their skipper David Estrada within the first 20 minutes of the duel. Amer Didic and goalkeeper Darrin MacLeod were not able to stop Estrada from opening the scoreline. However, Rangers responded instantly as Belmar scored a nice goal with his left foot, with help from Hadji Barry.
Rangers missed an opportunity when Felipe Hernandez and Didic combined. However, Hernandez was soon involved as he set up Rodrigo Saravia from the corner kick. Saravia nodded the ball to the top right corner to give the hosts the lead. Swope Park Rangers did not let the lead slip as they consolidated just after the break for their third goal. Colton Storm and Saravia combined to strengthen their hold of the game.
Barely four minutes later, Seattle Sounders responded through Estrada to make it 3-2. A few minutes later, Rangers increased the gap to two goals as Belmar added another. The goal sends him to the top of the goalscorers' chart in the USL.
Sporting KC Academy product Camilo Benitez and youngster Sebastian Cruz, here on a month's trial from French Football club Lyon, were thrwn on by the Rangers in the late stages having been assured of maximum points. They play USL expansion team Las Vegas Lights FC next in Nevada.